Not sure what tan you want? No worries!! You can simply book an appointment and we can discuss a solution when you attend your appointment. To learn more about the Brands and solution types, below is a brief description on what is usually available at Beauty Plus
TechnoTan: Eminence Tan (30min Wash Off)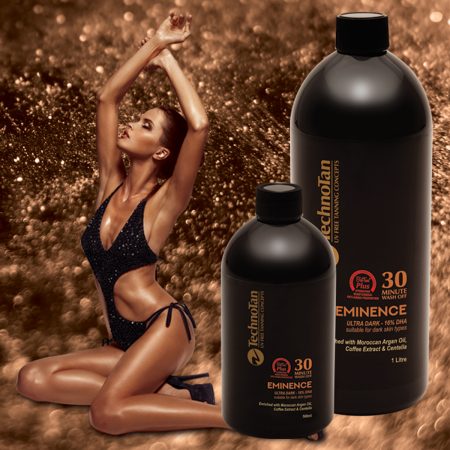 TechnoTan: Eminence Tan
is an ultra dark express tan that can be
washed off after 30 minutes
which is best suited to dark skin types and the longer it is left on, the darker it will go.
Eminence Tan is enriched with the BioTan Plus® formula which contains Moroccan Argan Oil, Coffee Extract and Centella Asiatica which are known for their anti-aging, moisturising and hydrating properties, ensuring a longer lasting, evenly fading spray on tan. Does not contain parabens, artificial fragrances, mineral oils, or sulphates.
Not Sure what Tan you want? No worries!! You can simply book an appointment and we can discuss a solution when you are here.

TechnTan FlashTan Blue (2Hour Wash Off)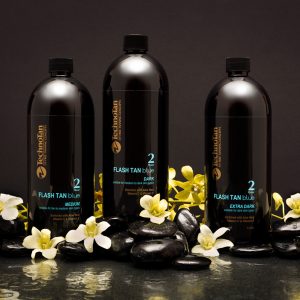 Get a touch of Mediterranean in less than 2 hours! 2hr FlashTan Blue is a striking blend of violet and brown tones that captures the exotic olive skin tones of the Mediterranean. FlashTan Blue is scientifically formulated to contain a unique dermal barrier that locks colour into the epidermis. The extremely popular FlashTan Blue suits all skin types and is celebrated for its natural finish. It is a blend of the finest naturally derived and Eco Certified ingredients including EcoCert DHA, Aloe Vera and Vitamin C & E.
Shade Available: Extra Dark

TechnoTan: BioTan Plus Espresso
(2 Hour Wash Off)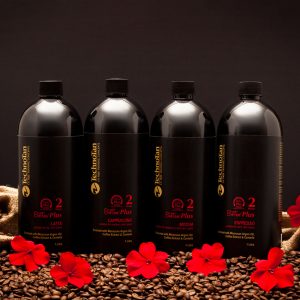 BioTan® Plus is the ultimate solution and is scientifically enhanced with the BioTan® Plus formula. BioTan® Plus contains exotic ingredients such as Certified Organic Morrocan Argan Oil know for its moisturising qualities, Coffee Extract known for its hydrating properties and Centella known for its skin repair and rejuvenation qualities. BioTan® Plus is a 2 hour solution that not only results in warm, Brazilian Bronze tones but also replenishes your skin leaving it soft and rejuvenated. This unique tanning solution contains natural and organic ingredients such as EcoCert DHA, Erythrulose, Kakadu Plum, Ginseng and Aloe Vera. TechnoTan recommends Espresso for dark skin types.

TechnoTan: FlashTan Original (Ebony)
(2 Hour Wash Off)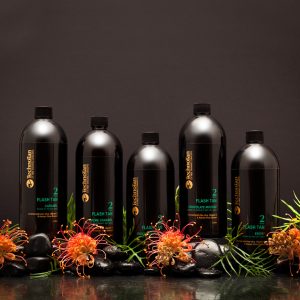 TechnoTan: FlashTan Original (Ebony) is perfect for tanners looking for a quick spray on tan fix without compromising on quality. FlashTan Original (Ebony) is an easy to use tanning solution. Ready to wash off in only two hours while a beautiful bronzed tan develops through the next 24 hours. It is specially formulated with natural ingredients such as Aloe Vera, Kakadu Plum as well as Certified Organic Herbal. FlashTan Original will result in rich bronze shades.

TechnoTan Classic Tan (6 Hour Wash Off)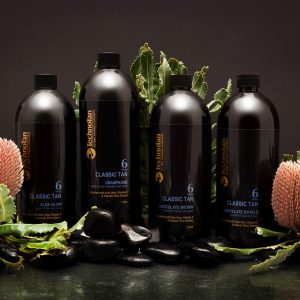 Classic Tan is the highest quality 6 hour tanning solution on the market today. Beauty Plus is offering a choice of three, stunning, golden brown shades that develop over 6-8 hours. Exquisitely crafted with Certified Organic Herbal Extracts and further enhanced with the natural Vitamin E rich Kakadu Plum and Aloe Vera, Classic Tan guarantees rich, flawless golden brown colour.